A commitment to quality is the cornerstone of success in manufacturing. Roy Zaki, President, and CEO of ERG International, a contract furnishing company serving the K-12 education, higher education, healthcare, and hospitality markets, hangs his hat on it.
"Achieving premium quality means manufacturing products that will stand up to the wear and tear of high, intense use and even some misuse," says Zaki, who has been at the helm of ERG for some 15 years. After graduating from college in 1993, he joined the family business to get his feet wet in the manufacturing world. Twenty-seven years later, he has never looked back. He started in operations and rose through the ranks learning the business before slowly transitioning into market analysis and new product development.
"Our fabrication capabilities are one of the things that differentiate ERG International in the contract furnishings market," says Zaki of ERG's five production sites throughout the United States. As one of North America's leading institutional seating and table manufacturers, ERG International offers an extensive product line as well as the ability to customize existing lines to meet any specification. ERG's fabrication versatility, craftsmanship, and premium quality are all facilitated by using the latest manufacturing equipment including CNC routing machines and automatic edge banding systems in their production facilities. "We're doing welding, powder coating, and high-end laminations at each of our plants. This gives us the ability to customize products around a client's specifics without diminishing aesthetics or quality."
Though Zaki still has his hands in every aspect of the business from manufacturing to sales, thinking about what is next in furniture design excites him the most.
"I love considering the future of design through our product development processes," says Zaki. "I go to Germany, Italy, and Asia to research other markets, find influences, and look at international trends. We also spent a lot of time listening to clients to understand user needs and, perhaps, how other furnishing options have failed them in the past. From there, we push our team to develop and engineer versatile, durable furnishing solutions to meet those needs."
In production-scale furniture manufacturing, there are few overnight sensations. At ERG International, it can take Zaki and his team several years to advance a new piece from concept to salable unit.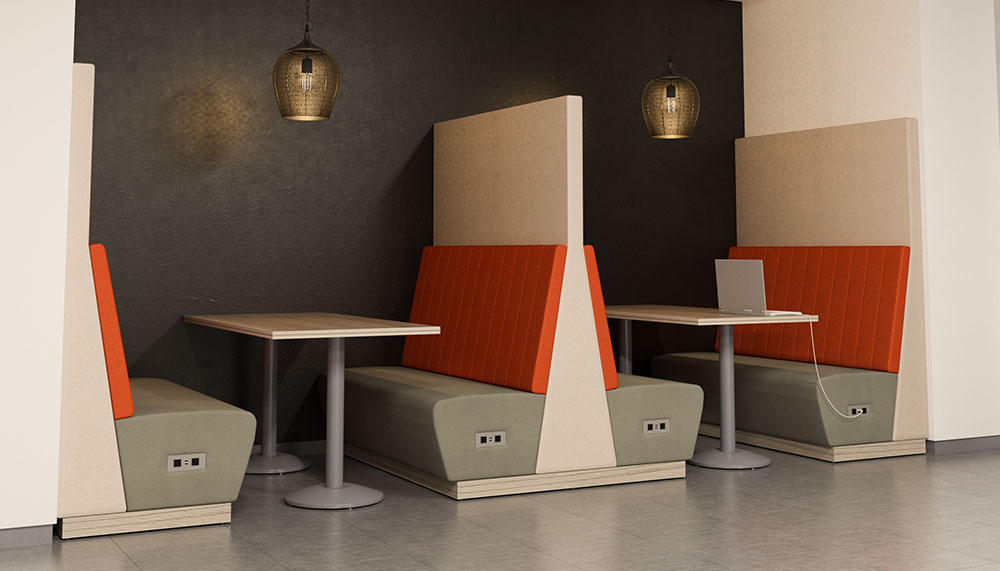 ERG International's latest innovation, the Encino banquette, was a full three years in development yet enters the market as an ideally timed asset in reducing pathogen dispersion. Available in both single unit and back-to-back units, ERG's new Encino banquettes provide enhanced privacy and spatial division by being offered in four back heights. Starting with a low 34" back, and continuing with a standardized 44" back, the Encino line also comes in 60", and 72" variations of one-, two-, and three-seat units.
"Most banquettes stop at a 48-inch back, some will go to 60-inches, but a six-foot panel back of a full 72-inches is very unique," continues Zaki. The added back height gives the Encino line the capacity to create genuine privacy and personal space in almost any setting. Seats and backs can be covered in the client's choice of fabric, vinyl, Crypton leather, or material of their own. ERG only uses water-based glues and adhesives in their upholstery processes. Seat and back cushions are made from up to 4" graded high resiliency block foam covered with a special bonded polyester fiber to protect the final upholstery. The frame is constructed of multi-ply hardwood using tongue and groove construction. No-sag springs and interlocking helicoil springs are used in the seat and back to prevent sagging and add lower back support.
"The Encino banquette finds a home in a wide range of social gathering spaces where a degree of privacy is harder to achieve such as school cafeterias, restaurants, healthcare, higher education, and corporate offices," says Zaki. "From education and healthcare to corporate offices, more interiors are being designed as large open plan areas that are subdivided by furnishings. The Encino line creates a visible division of space but can easily be flexibly reconfigured for changing uses of space."
Designed for the energetic wear and tear of children as young as elementary school, like all the products they manufacture and sell, ERG's Encino line comes with a lifetime warranty. Engineered for durability and rugged, daily use, the Encino banquette was also designed to be easy to clean and maintain. An optional clean-out channel where the seat meets the back allows crumbs to be easily wiped from the seat and cleared out of the channel. Owners have more than a 1,000 different covering options in vinyl, natural and synthetic fabrics, and other cleanable anti-microbial materials. Adjustable steel glides allow banquettes to be slid easily from place to place and can be made with an optional plinth base.
"The Encino line was in development well before COVID-19 affected our lives," says Zaki of the three-year process. "However, we believe beyond the pandemic, there is a great desire in many different markets for an ultra-highback banquette that is easy to clean, easy to reconfigure, and can be made in an almost endless array of options."
Authored by Sean O'Keefe, LBD contibuting writer.